Rough Diamond Evaluation Course
Learn to identify the characteristics of rough diamonds and evaluate the rough diamond to esitimated the colour, clarity, carat weight, and cut to determine the value of a rough diamond.
Course Information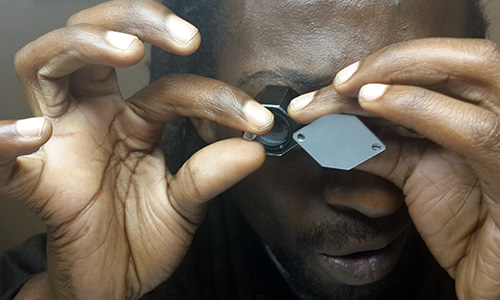 This is a practical course where students get to work with a variety of natural Rough  Diamonds
Students are taught to understand the characteristics and qualities of a rough diamond in relation to the colour, carat- weight, clarity, cut so that he/she can, with the necessary time, determination and diligence make meaningful decisions regarding the Evaluation of Rough Diamonds.
Students are provide with the necessary tools and equipment for the duration of the course and taught how to use it. (The tools and equipment remain the schools property.)
Duration
10 Full Days
Monday to Friday
08:00- 15:00
 What will it Cost me? 
The course fee is R9 990.00 ( Inclusive of VAT)
Class manual are supplied to be used for the duration of the course.
Excludes: Printed Hard Copy Manual ( A manual can be added for an additional R255.00 incl VAT )
What will I get? 
On successful completion of the course you will receive a Certificate of Completion from Harry Oppenheimer Diamond Training School.
Important information that I need to know?  
Application must be made in well advance as only a limited number of seats are available per class.
Identification book or passport is required to enter the Diamond Centre.
Only a limited number of candidates can be accommodated.
A registration deposit of 50% is payable to secure the candidates place.
Full course fees to be paid before the class commencement.
Fees are non-refundable after the commencement date.
Candidate must arrange their own transport and accommodation.
Cancellations: 
Cancellation must be done in writing 5 working days prior to the start date of the course. If not Harry Oppenheimer Diamond Training School will charge for the full course.
Course Dates
2018
If a Public Holiday falls in the course duration, time will be made up.
07 May 2018 - 18 May 2018 
21 May 2018 -  01 June 2018 
04 June 2018 - 15 June 2018 
18 June 2018 - 29 June 2018 
02 July 2018 to 13 July 2018 
16 July 2018 to 27 July 2018 
30 July 2018 to 10 August 2018                     Time will be made up for Public Holiday. (Thu 9th - Aug.)
13 August 2018 to 24 August 2018 
27 August 2018 to 07 September 2018
10 September 2018 to 21 September 2018 
25 September 2018 to 05 October 2018         Time will be made up for Public Holiday. (Mon 24th - Sep.)  
08 October 2018 to 19 October 2018 
22 October 2018 to 02 November 2018 
05 November 2018 to 16 November 2018 
19 November 2018 to 30 November 2018 
03 December 2018 to 13 December 2018        Time will be made up for HODTS last day. (Friday 14th December 2018.)