Course Information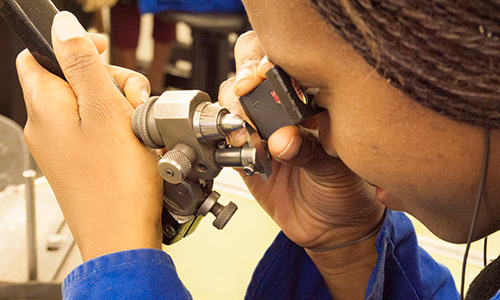 This is a practical course that is presented in a factory environment. Where students are taught to polishing round brilliant cut diamonds
To use the tools and equipment, so that he/she can, with the necessary time, determination and diligence, polish a round brilliant cut diamond.
The Characteristic of diamonds so that they can have a better understanding of diamonds and to make informed decision on how to polish it.
Learners are provide with the necessary tools and equipment for the duration of the course.(The tools and equipment remain the schools property.)
Learners work on real natural diamonds.
Duration
6 Months Full time
Monday to Friday
07:30- 15:00
What will it Cost me?
The course cost is R39 999.00 ( Inclusive of VAT)
What will I get?
On successful completion, and all criteria met, you will receive a Certificate from Harry
Oppenheimer Diamond Training School.
A 95% attendance is required before a certificate will be awarded.
Important information that I need to know?
Application must be made in advance as only a limited number of seats are available per class.
Identification book or passport is required to enter the premises. Only a limited number of candidates can be accommodated.
A registration deposit of 50% is payable to secure the candidates place. Full course fees to be paid in full before the class commencement. Fees are non-refundable after the commencement date.
Candidate must arrange their own transport and accommodation.
Cancellations:
Cancellation must be done in writing 5 working days prior to the start date of the course.If not Harry Oppenheimer Diamond Training School will charge for the full course.